For its Insurer of the Month series, Assurances Multi-Risques interviewed Carol Jardine, President, Canadian P&C Operations at Wawanesa Mutual Insurance, a company owned by its policyholders. It is one of the largest property and casualty insurers in Canada.
Since 2018, Wawanesa's insurance products have been distributed by independent insurance brokers across Canada. In this article, Carol Jardine talks to us about their digital improvements, their mutual values ​​and their social involvement in Quebec.
In a recent Wawanesa Press Release, you stated:
The Wawanesa Mutual Insurance Company has partnered with Capgemini to implement two industry-leading digital solutions across Ontario – Guidewire InsuranceSuite™ and BluePass. Together, these solutions will support Wawanesa and its Ontario broker community towards the goal of providing exceptional customer service to current and future policyholders across the province.

(Wawanesa, October 23, 2019)
Has this new platform obtained good results so far?
We are very happy with the results, as are our brokers in other provinces. Transactions that once took a day or more to process are now completed in minutes, and our team of highly skilled underwriters can spend more time focused on helping brokers and customers with complex issues.
We have invested nearly $300 million in the last few years into better technology and digital systems, focused on enabling independent insurance brokers to better serve their customer's increasing expectations for service and protection.
This new system will be launched in 2020 in the province of Quebec:

What changes can your Quebec clientele expect? What are the planned improvements following the implementation of this new system?
Quebec will be the last and most important province to transform to the Guidewire InsuranceSuite™ and BluePass systems, as we are now 100% broker distributed in Quebec and will be retiring our old mainframe system and our WIS system. Customers will see refreshed policy documents and billing materials that are simpler to read, and brokers will be able to join other Wawanesa brokers across the country who praise the simplicity of our BluePass portal.
Following implementation, we will continue to invest, improve and deliver better digital systems to brokers across the country in both French and English. We want our systems to enable brokers to provide quick, reliable advice, with options for customers to control their risk acceptance and the price of their insurance. That's exactly what our modern new systems are designed to do: help our Quebec brokers remove transactional friction and focus on their relationship with policyholders.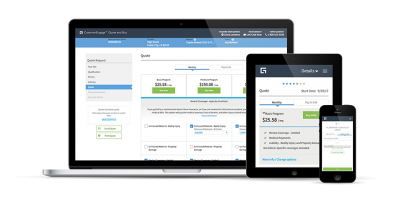 Wawanesa is now selling its products through a broker network…
What are the factors that motivated this choice? What advantages do you see this having? Are the results conclusive?
Consumer research tells us that Canadians value independent advice when purchasing complex financial protection, such as insurance. Wawanesa is now 100% broker distributed in Quebec and across Canada because we believe brokers are in the best position to understand the unique needs of customers and provide the best advice.
As for results, in Quebec our new business over the last several months has grown to the point where we're writing more now than we did immediately prior to our changeover to broker distribution. To us, this demonstrates Wawanesa is on the right track in Quebec and that people value the advice of brokers.
Across Canada, brokers appreciate a company of our size with nearly $3 billion in revenue in 2019, committing 100% to broker distribution. We call it "doubling down" on brokers. We view our support for brokers as central to our success and we're proud to be the largest national property and casualty insurer fully committed to brokers, especially here in Quebec.
What are the mutualist values of Wawanesa and how do they reflect on your social implications? (How do Wawanesa live those values through community?)
 The Wawanesa Mutual Insurance Company began 123 years ago in the small prairie town of Wawanesa, Manitoba. Back then, twenty farmers got together to fix a problem. The problem was their wooden threshing equipment was at a high risk of catching fire. To provide insurance for this equipment, the big insurance companies of the day wanted premiums the farmers couldn't afford. So, the farmers banded together, invested $20 each, and started their own mutual insurance company, where they weren't just policyholders but also owners of the new mutual company.
Those farmers chose to look out for each other, spreading the risk amongst themselves so if something went wrong nobody would be left destitute. Our company and our values were born in that moment, and we have stayed true to the values of those 20 farmers, 123 years ago. Those values are:
Service – We strive for exceptional customer service delivered with empathy.
Openness – We're proudly sincere in how we do business.
Fairness – In good times and bad, we do right by people.
Collaboration – Working as one team, we respect what everyone brings to the table.
Community – Supporting our communities is the essence of who we are.
Our commitment to give back to the communities where we work and live is core to our Mutual values. That is why we are proud partners of many Canadian charities in the communities in which our brokers and customers work and live, it is why we give to Universities and Colleges across the country, and it is why we are currently hosting holiday toy drives across Quebec, partnering with teams in the Quebec Major Junior Hockey League (QMJHL), local charities and independent insurance brokers, gathering new, unwrapped toys and donations for kids this holiday season.