Civil liability

Third party liability coverage is mandatory for all vehicle owners. This coverage follows you every step of the way and protects you in case of accidental damage caused by your vehicle to other people or their vehicles. We recommend that you increase your third party liability coverage if you drive outside Quebec and Canada.
All risk

All risk coverage includes your third party liability, comprehensive, and collision and upset. This is the most comprehensive coverage of all.
Collision or upset (impact with a vehicle)

As the name suggests, this coverage insures you in the event of a collision with another vehicle or in the event of an upset. With this coverage, the cost of repairing and replacing your vehicle due to property damage (based on the value on the day of the loss) will be covered. is coverage applies if you collide with another car, with the ground, with an object on the ground or if your vehicle is overturned.
Comprehensive incidents

This type of coverage insures your vehicle for loss or damage that is not caused by a collision with another vehicle. What types of incidents are covered? eft or attempted theft, vandalism, damage caused by falling trees or objects, damage caused by an animal (including a collision with a deer) and damage caused by lightning, high winds, rising water, earthquakes or fires.
Third party liability for vehicles not owned by the insured

This protection covers damage to a vehicle rented or borrowed from a third party. This coverage applies in Canada and in the United States.
Goods and furniture

This protection covers the goods and furniture inside your recreational vehicle in case of theft, vandalism or damage.
Repatriation guarantee for campers

In case of theft or accident, this coverage guarantees the repatriation of your vehicle.
Storage credit

In case of theft or accident, this protection guarantees that your vehicle will be repatriated. Did you know that when you store your car, snowmobile, motorcycle or recreational vehicle, you are eligible for a storage credit? This credit is calculated based on the length of time you store your vehicle and the reduction of risks incurred during this period.
Equipment and accessories insurance

This coverage compensates you in the event of death or dismemberment. This protection covers your medical expenses and total disability if you suffer bodily injuries in a car accident.
This protection covers the replacement of your vehicle in the event of a claim. Two options are available to you. You can choose to replace your vehicle with another of equivalent value or obtain financial compensation of equivalent value for the purchase of a vehicle of your choice.
Replacement cost insurance
This coverage allows you to replace your property that has been damaged without deduction for depreciation. The premium will be determined based on the new value. It is important to be aware of the exclusions mentioned in the contract.
This coverage applies if you are deprived of your vehicle following an accident for which you are not responsible or if a serious breakdown prevents you from using your vehicle.
Life & health insurance and medical expenses
This coverage compensates you in the event of death or dismemberment. This protection covers your medical expenses and total disability if you suffer bodily injuries in a car accident.
This coverage ensures that you have access to roadside assistance in the event of an accident or breakdown. In addition to roadside repairs, roadside assistance may also include towing, unlocking doors, jumping the battery, installing a spare tire and providing fuel.
Legal insurance allows you to benefit from financial assistance so you can quickly access legal services from the lawyer of your choice. With the goal of offering you peace of mind, this additional coverage will ensure that your fees are covered.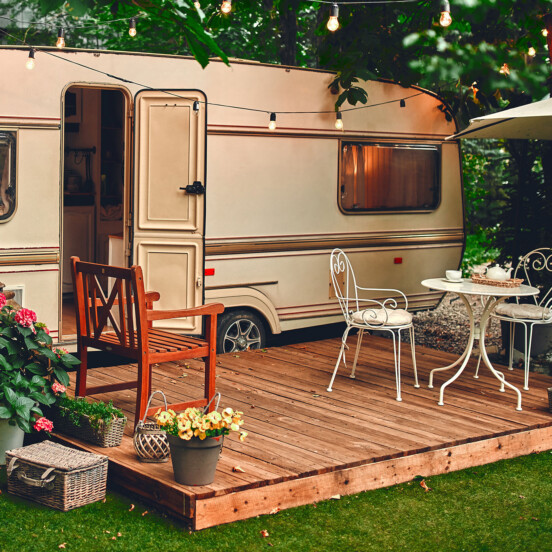 Since a stationary trailer becomes more of a dwelling than a recreational vehicle in itself, particularities and exclusions impact elements such as:
Movements of the non-motorized vehicle
Responsibility for living quarters
Outbuilding (shed, shed) and landscaping
Extensions and attached structures (you must notify your insurer)
Debris removal
Personal property and don't forget your golf carts and electric bikes
Get all the information you need about your stationary RV and get the right insurance!